East Side Mario's Pizza making social
How Exciting! A Zoom call with
​Jackson Bennett of the Hamilton Tiger Cats
Always a good time on Music sessions with Deanna via Zoom
Wow, How about these talented artists! - Zoom May 29

Thanks for joining us Fire Fighter Scott of the Milton Fire Department! We learned a lot! Thanks for all you do!

May 21 Zoom:
We had a chat with Milton MP and Olympic Medalist, Adam VanKoeverden. It was great learning about what an MP's job entails and how we can reach out when needed. We also enjoyed hearing about Adam's Olympic experiences.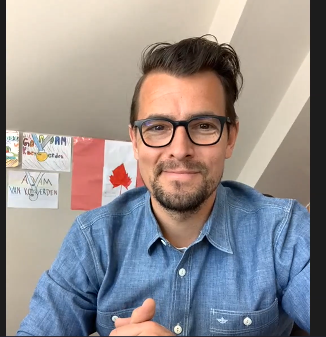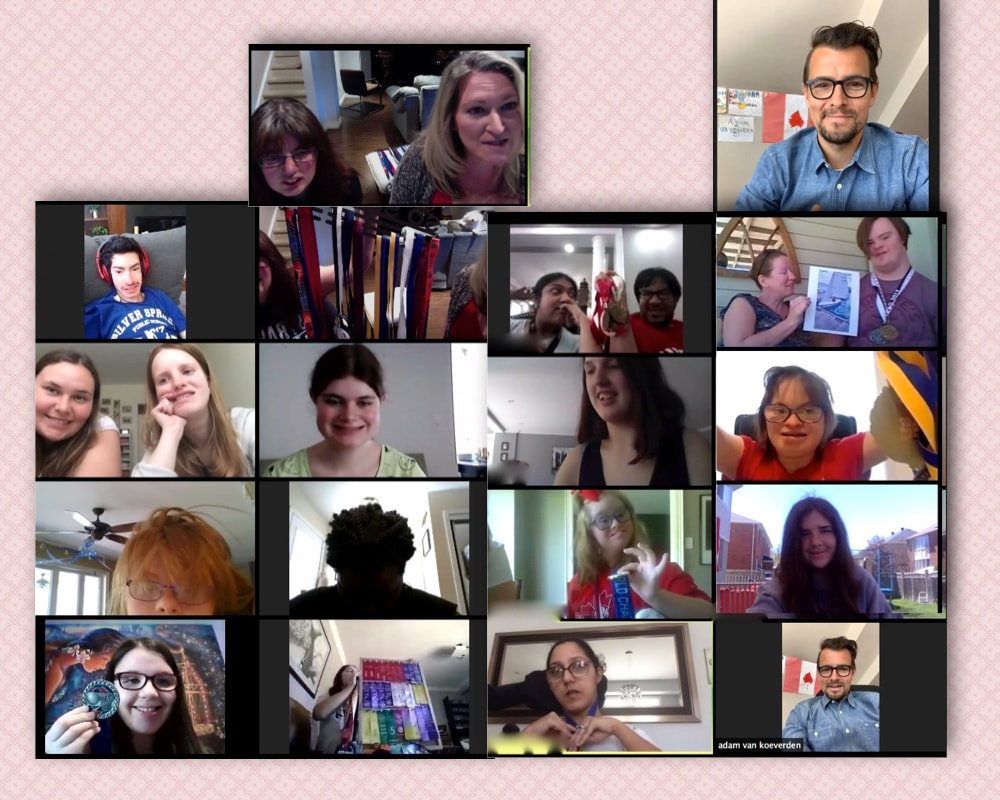 May 11th Zoom: Today was very exciting! We had WNBA player and Team Canada athlete, Kayla Alexander join us. She read us the book that she wrote and illustrated "The Magic of Basketball". She answered all of our burning questions, shared her inspirational message of following your dream and we shared some of our own proud Sporting moments with her. Seriously, a ton of fun. If you haven't already read her book, I encourage you to check it out!
Zoom, May 9th
Today we had Special Guests from the Peel Regional Police join us for our Community Helpers/Front Line Workers Series. A great big thank you to Officers
Cadarette Kimberly
, GIl Lachapelle, Arminder Bhullar, and Mike Wood for answering all of our questions and assuring us you are always there for us. And thank you to Officers Dave Steffan and Wayne Kelly for covering so that the other on Duty Officers could spend time with us. We appreciate all you do
<3
Stay safe!
Thank you to Nurse Sydney for joining us and telling us all about being a nurse! Stay safe and thank you for all you do!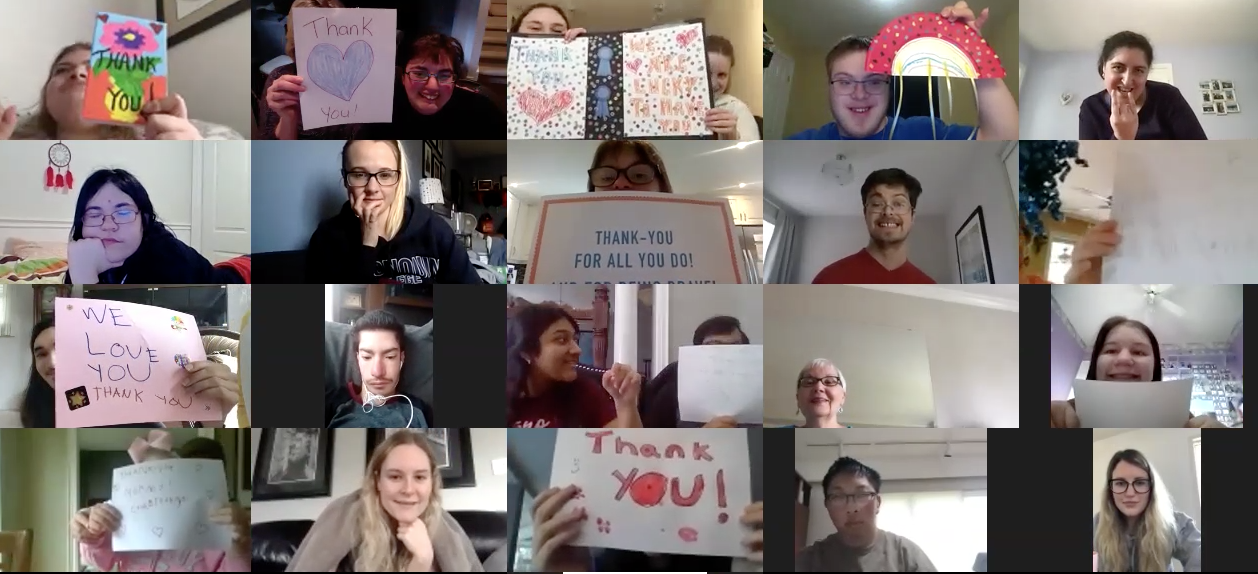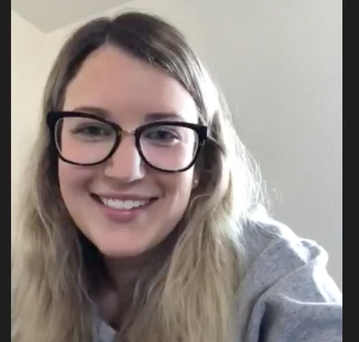 So Thankful for Technology during this time of social distancing! It's been so much fun, from Zumba, to Art, to baking and games. No virus is going to keep us apart <3 #Zoom
SFN Members Haider and Madison representing HYDAC at the
​Milton Youth Task Force Meeting
February Cooking Club
---
Raptors Game!
HYDAC Valentines Dance
Volunteering at the BurLINKton Community dinners
Book Club: Helen Keller
We had lots of fun learning about our five senses, brail and the life of Helen Keller
Games Nights are a blast!
January Cooking Club
Paint Night with Aiden Lee
Halloween Dance Party
Global Dignity Day at the WE Offices
Star Awards Gala
Our SFN Nominees and Friends
---
WE Day 2019
An Afternoon out with
​Charter Ability
Bowling at Champs
Book Club: The Secret Garden

Volunteering at HEEFS
Our Trip down to the Blue Jays Game! Thank you to The Jays Care Foundation for our box seats and treats!
The SFN filming our part in the Documentary Magical Milton
Another Cooking Club
An afternoon at the Theatre
​and an afternoon at the Movies
Volunteering at the Food Bank
Paint Night
Night to Shine!
Bowling at Champs
Book Club, Malala
January Cooking Club
Thanks to everyone for all the donations for the food bank and our "Adopted family" xo
Thanks to our Volunteer Ava for arranging the Gingerbread Wreath Decorating at the Ice Cream Lab!
Awesome times at the Halloween dance!
So Proud of these two young ladies.... They were presented with the Governor General Sovereign's award for Volunteerism! At the WE night for Inspiration.
WE Day Concert!
Charter Ability boat cruise.
Joy of Reading Book Club: Esther the Wonder Pig
A day at the Orchard


​Look Who's going to Zajac Ranch this Summer....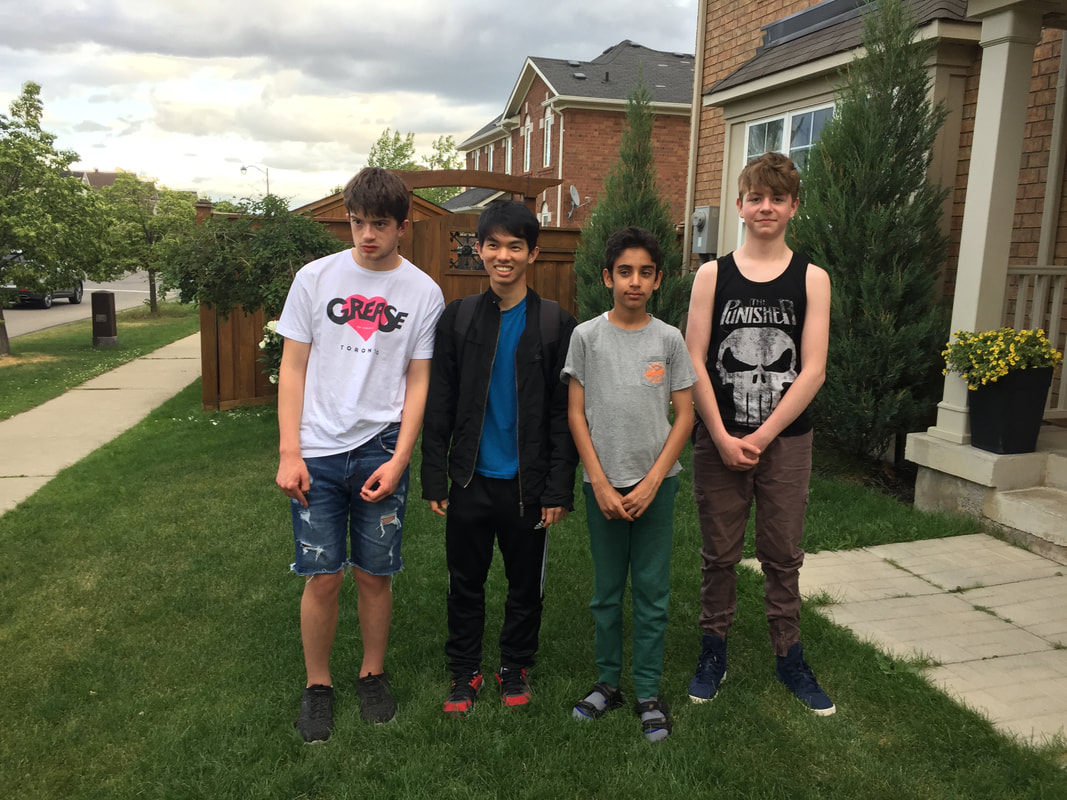 Another Volunteer Day at
​Happily Ever Esther Farm Sanctuary

Good times at Bowling
Our Trip to the WE Offices in Toronto for a Workshop

​Book Exchange Fundraiser!

​Community Clean Up Day....
Another Fun Cooking Class



​Fabulous Joy of Reading book club Meeting! We all enjoyed Charlotte's Web and our visit from Thomas the Pig! Special thanks to My Place Learning Centre for the generous use of their space and wonderful hospitality!
We had a beautiful day for volunteering at the Happily Ever Esther Farm Sanctuary!
March Break, Superstore, store tour and education session.
March Break, Lunch with friends and pottery painting.
Valentine's Dance!
Zumba Event
January Cooking Club
Ranger's paint night.
The Joy of Reading Book Club and Therapy dog visit....
October and November Cooking Clubs...
Fall Costume party....
A Boat Trip with CharterAbility.
​A wonderful way to spend a beautiful fall day!
Our P.D. Day visit to Marshall's Farm
Another Volunteer Day at the Happily Ever Esther Sanctuary
End of Summer bash. So much fun dancing and hanging with friends. Thanks to D.J. Nate for his musical styles.
Art night. Everyone showed their creative side painting Canadian themed tiles and our rocks. Thanks to Aiden Lee for coming out and guiding us with his great techniques and talent.
Our Day Volunteering at the Happily ever Esther Sanctuary. Such a wonderful place. Check them out online and consider making a donation to help them with operation costs.
​www.happilyeveresther.ca
Walk around Mill Pond, Picnic and Ice Cream!
Variety Village, Dance - Able Party at The Cabana Pool Bar. So much fun.

​June's Cooking Club
Friends Fun and Games get together:
Making Gingerbread houses...
Our First Ever Book Exchange/Fundraiser was a great night! We raised $295. We will use the donations towards venues or events, I will post how much and what it was used for. Thank you to all the wonderful ladies that turned out to support us. We had many generous donations for our raffle as well. (Please see our Supporters/Contributors page). The names of the winners are listed below each picture :)
UPDATE: The funds raised have been used for the following: Fee to take part in the Halton volunteer Fair, crafts and goodies for our Valentines cooking club, cards for our birthday club and a couple of small gifts, paid for one hour rental for our games event as well as cupcakes, bottled water and snacks and accessories for our "photo booth" bin, and printing a banner for upcoming Resource fair as well as printing business cards.
Crock A Doodle PD day fun!
The Joy of Reading Book Club
Our first book club was a success. We enjoyed reading Flat Stanley and discussed all the things we would do if we were flat. We also talked about all the places we have been. We enjoyed decorating and eating our "flat Stanley" cookies too!

Oct. Bowling Night
Sept. Cooking Club
The Special Friends Network invited to Zajac Ranch for Children in Mission, B.C. !
Social Meet ups at the Hawthorne Cafe
SOS for Kids, Safety and Independent Living sessions

Thank you to SOS for Kids. The course was fantastic. Very informative and interactive. Everyone sure learned a lot. What an enthusiastic bunch!
Look forward to more collaborations in the near future!

An evening of Magic!

Thanks to all that came out to support our fundraising efforts. It was a great evening of entertainment with a performance by the Dance Ability Movement's performance crew and the amazing Magic of Tyler Fergus!
​


Get Ready For Summer Jam
A great time was had by all! Thanks to Mallory and Jade from the Dance Ability Movement for their dance instruction and
Bradley James McGoey
from BJM Musical Enterprises for his great music.
---

---

SuperStore Tour and information Nights:

These events focused on healthy eating and navigating the grocery store.
The dietician at the Superstore took the participants on a scavenger hunt through the grocery store ( finding healthy foods in the produce etc) . They were taught some basic label reading. Had a visit with the lobsters and talkied about choosing healthy fish. They also looked at sugar and salt content of food.
They reviewed Canada's food guide and talked about portion sizes as well as the Guiding Stars program.
We enjoyed a healthy snack and tried fruits we haven't had before .
At the end of our event everyone received a "loot bag".


---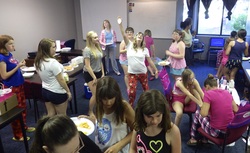 All Girls PJ Party. What a fun night of singing Karaoke, getting nails painted, decorating pillow cases, playing games, eating snacks and we had a Special visit from Princess Elsa! Everyone had a good time, and it was a great social event. Thanks to all our wonderful volunteers who joined in the fun. A huge shout out to Making Waves swim school for donating the use of the space and making sure we had everything we needed! Thanks too to Lynda and SPArty Girl Mobile spa for coming out and painting all the young ladies' nails. Elsa from Dawn till Dusk Enchanted princess parties also donated her time and services. She took pictures with everyone and signed our pillow cases too. We especially enjoyed the sing along to "Let it Go". Thank you too to all the contributors to our Swag bags and good eats including, Nats from Kooking Kurry, sweetcheeks cupcakes and treats for our delicious and beautiful cookies, Jan Dalley for the Arbonne samples, and all our anonymous contributors!
---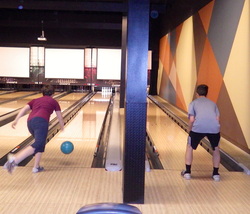 Our Bowling event was a great success! Everyone left smiling and asked when the next bowling night was. A huge shout out to Champs Family Entertainment centre for supply us with an amazing room all to ourselves. Great service and food and an exceptional experience. Once again our fantastic volunteers added the icing on the cake with their support and friendship.
---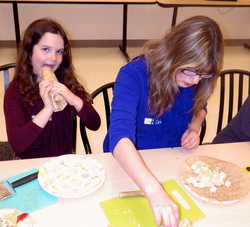 Cooking Club is a great way to combine socialization, motor skill development, independence and fun! The participants learn about healthy eating, food preparation and gain confidence in a relaxed and productive environment. The support from enthusiastic volunteers makes the experience enjoyable for everyone. Parents can enjoy some time to connect with each other in the adjacent lounge, do some shopping or, have some time to themselves.
---